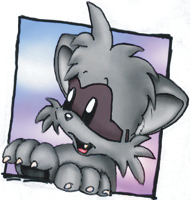 Some Raccoon
(by
Tobias
,
Jan 24, 2004
)
Just some random raccoon, I wanted to mess a bit with the border so I was thinking of a character I could put into such a frame that way .. well, and that's what I came up with. Better than nothing, eh? I'm kinda happy with the colouring, its "mask" being a grey-purple, to make it a bit more colourful n.n
Want to use this as an avatar in forums or similar? Sure, go ahead, I would feel honoured, but make you read the "Terms of Use" on the bottom of the "adoptables"-section. Thanks =n.n=
Posting Restricted
Posting on this contribution is available for a closed user group only.
I LUV RACCOONS AND THE PIC ROX!
oh that is so cute i just wanna huggle him
| | |
| --- | --- |
| | |
yay for raccoons, hmm? :)thank you very much =n.n=
Oooo cha cha! thats sooo cute! I like how the mask forms, like it bumps over the eys and then squares out, and then seperated from another lil box sliver, and da lil claws...awww..hehehe.
No parts of this website may be used without express written permission.